Testimonials
Mariel I.
"I never thought I would be someone to consider homebirth. But there is something about looking someone in the eyes who has seen hundreds of natural births that changed my mind. My husband and I did our homework.We explored several OB offices before settling on midwifery care. OB appointments were limited to 15 minutes and with Andrea, I never felt rushed. We met with 6 different midwives based out of New York. All were wonderful, but we were particularly struck by Andrea's ability to balance holistic and nurturing care while being incredibly detail oriented and evidence-based in her approach. She answered all of my questions with an impressive rundown of the facts and data so that we could make informed decisions about our care and plans for delivery. At the same time, she was deeply kind and I felt listened to and heard.
While sadly we had to leave her care to deliver out-of-state due to Covid, we carried what we learned from her with us and it gave me the confidence to have a natural birth in a hospital setting.
I will definitely plan to return to her as a patient if we are lucky enough to have a future pregnancy. I would highly recommend her to anyone considering midwifery care."
Rachel F.
"I'm a doula and childbirth educator, so I knew I wanted a home birth when the time came. My husband and I knew Andrea was the midwife for us when we interviewed her as she put us at ease, and I trusted her guidance throughout my pregnancy. I wanted my birth experience to be empowering, peaceful, and sacred, and I'm so happy to share that it was all those things and more. It was the hardest thing I've ever done but at the same time easier than I imagined. I had the freedom to listen to my body and labor the way I needed to, and I felt respected and supported to do so. I'm so happy with my birth experience, and I emerged from the other side of my birth transformed and empowered to be the kind of mother I hoped to be."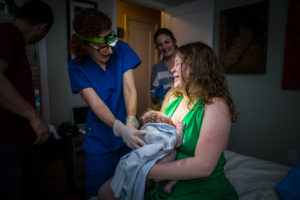 Anjela J.
"Andrea attended my son's birth in August 2015 and it couldn't have been more perfect. Andrea is the best and her team is fantastic too.
I was already pregnant when we moved to NYC, and my husband and I found and met Andrea early on. My husband was slightly on the fence about home birth and felt immediately comfortable with Andrea, which helped seal the deal. We deeply benefited from and appreciated Andrea's vast knowledge, thoughtful consideration, and seemingly endless patience during our time with her. She strikes the difficult and exquisite balance between providing lots of information and being absolutely respectful. We have to admit we were slightly skeptical about HypnoBirthing, but when Andrea spoke of her positive experiences with it, we trusted her and ultimately really benefited from the preparation.
I actually cried when she left after my last post-partum appointment! We absolutely hope to have Andrea as our midwife again in the future. Andrea holds a special place in our hearts."
Kat M.
"Andrea is an amazing midwife, whom I wholeheartedly recommend.   I transferred  to Andrea after being with an OB until I was 32 weeks pregnant, and it was probably one of the best decisions of my life.  The care and knowledge I received from Andrea was top notch, which says a lot as I was coming from a well recommended OB in Park Slope.   None of my appointments had a time limit on them, and Andrea took time to answer any questions I had in each appointment.  She had tips and recommendations on how to improve my health as my pregnancy progressed, as well as tips for making labor easier.   Her knowledge of women's health and prenatal health is immense and seems to be ever growing.
Two things really stick out about my time under Andrea's care.   She always respected me as a person and as a woman.   She gave me all of the information I needed to make informed educated decisions for me and my baby, which was much appreciated.   There were several instances when I had to make decisions about treatments, etc during my pregnancy and I felt fully confident that the decisions I made were the right ones after Andrea gave me thorough information on all topics.  She also listened to me as I asked her to come to my home when I was in labor, even though we thought it was a little too early for her to come.   It was a great thing she honored my request as I was fully dilated by the time she arrived!
The other thing that stuck out was Andrea's bedside manner, which was fantastic.   She was always professional and caring, sensitive to my feelings, fears, and thoughts.
I have such great respect for the service that Andrea provides and  feel extreme gratitude to have gotten such wonderful care for me and my baby during such an important time in my life.
If I ever decide to have another baby, Andrea would be my undoubted choice for care."
Liliet G.
"Andrea delivered our baby boy in December 2015. It was an awesome gentle hypnobirthing experience. Both she and her assistant Shalawn (whom I had just met that day) provided the intimate home birth environment that my husband and I were looking for. They cared for our family as a whole and even cleaned up any trace of labor or birth in our bedroom.
Andrea followed my pregnancy since week 20. She was very caring, involved and had the best recommendations, from getting a doula to which kind of probiotics to get, etc. She was the one who first suggested hypnobirthing and I'm so glad she did! It truly transformed my birthing experience and my life.
Andrea has the utmost respect for women's bodies. Being a health professional myself (I'm an advanced practice nurse) and having witnessed plenty of births, I knew I wanted an empowering experience, and only the necessary vaginal exams or interventions during the birth. When the time came and my surges began I felt confident in her care. During labor Andrea arrived at our home and patiently waited for me to dilate. I chose to wear an eye mask and headphones to really get into hypnobirthing. I recall peeking out of my mask and seeing her excited smile encouraging me through. She helped me deliver our baby boy after only 12 hours of hypnolabor! Thank you Andrea for forever changing our lives, you were truly Godsent. Needless to say our family is extremely satisfied, and if we are remotely close to New York City we will seek your services for future pregnancies."
Ines B.
"I'm so grateful to have had Andrea as my midwife for the home birth of my daughter in November of 2014.  We had such an amazing birthing experience and Andrea was a major reason it was so smooth.  Starting from prenatal care, she would come to my home and make sure I was well and comfortable, always taking time to answer all my questions and concerns. 
When I was about 37 weeks pregnant my baby turned posterior, and I was worried that I wouldn't be able to birth at home.  Andrea advised me on exercises to do before and during labor to help my baby turn to LOA, and when I was in early labor, my baby did turn to LOA!
During the labor she was super professional, and yet kept her sweet and caring way of being, very sensitive to my needs and very respectful.  The birth was an incredible and sublime experience!  And having Andrea as my midwife gave me and my husband so much confidence in the whole process.  Her assistant Gail, whom I only met during my labor, was also a great professional, plus a wise loving woman.  Andrea's postpartum care was also great, she would always return my calls right away, making me feel secure. If I have another child Andrea will be my first choice for a midwife!"
Manuela L.
"Pretty late in my pregnancy my husband and I decided to have a home birth for our first baby. A friend of mine recommended Andrea to us and the moment we met her we immediately knew in our hearts that she was the right midwife for us. 
She's warm, caring and loving and has a wonderful way of making you feel like you should when you are pregnant; comfortable, relaxed and empowered. 
She took her time to get to know me and my husband and to answer all the questions we had and there were millions…. She made me feel at ease 'cause I always felt she was listening and that her answers reflected her understanding of my situation as well as her medical competence and her own long time experience.
She is kindhearted and compassionate and was tremendously supportive of me emotionally. I was able to share every worry or thought with her, and medically I trusted her judgement without any doubts. She is caring, attentive and knowledgeable. She made sure at all times that I was fully informed about every procedure. She was very thorough and always explained what she was doing and what was happening. I loved that.
I appreciated Andrea's peaceful and positive energy during birth. She was calm and focused, loving and tranquil. It was truly the greatest moment of our lives and we will be eternally grateful for this magical experience Andrea gifted us with."
Maya V.
"In 1994 I had a successful homebirth in water. In 2007 I had a failed homebirth that resulted in a transfer to the hospital, which was a nightmare. In 2013 I got pregnant with my 3rd child and I knew I did not want to repeat my last experience. 
I took a hypnobirth course with Andrea and subsequently had an amazing homebirth with her. I can't imagine a better experience. My daughter's birth went exactly as I had envisioned it…better than, actually. I can't recommend Andrea enough. It makes me want to have more babies! 
Andrea is so soothing and gentle, yet firm. When I was doubting myself, she helped me dig deep and find the strength to keep going. She was also very good about making my husband feel valued and included. 
Andrea is also very thorough. She makes sure you understand everything that's going on and is very adamant about keeping mother and baby safe. I'm 42 years old and I wanted a water homebirth vbac, so you can imagine there was a lot to consider and many tests and hurdles to clear to be certain my baby and I would be good candidates for this type of birth.
Fortunately, everything worked out and the birth was beautiful, without one single incident. I really recommend taking a hypnobirth class, as well. It was THE difference between my 2007 attempted homebirth (different midwife) going all wrong and ending up with an emergency c section in a hospital and this perfect, calm, peaceful homebirth with Andrea."
Kelly L.
"My husband and I hired Andrea to help us deliver our third child at home. When we first found out I was pregnant, we were living in Virginia and began prenatal care with the midwives we had used for our second child's homebirth. Soon after, however, we learned that we would be moving to New York only about a month before I was due, and so began a search for a midwife in the city to whom we could transfer care.
After reaching out to several providers, we arranged to meet with two.  Andrea was our first appointment, and we immediately felt comfortable with her.  She was warm and knowledgeable, and answered all of our questions without hesitation. We liked her so much that we wound up cancelling our second appointment!  Andrea was so accommodating of our unique circumstances: since I had to travel from Virginia for my prenatals, she was flexible with their timing and welcomed me into her own home for our appointments. She also found an insurance plan that I was eligible for that covered the full cost of the homebirth (compared to the ~20% my former insurance would cover!)
Andrea was respectful of my care preferences and always left me feeling confident in my ability to keep myself and my baby healthy. Our visits were relaxed and personal and she even took extra time to let my older two children hear their heartbeats on the Doppler. They loved Miss Andrea! I always felt like she trusted me, and that is such an important part of the homebirth experience!
Toward the end of my pregnancy I had several bouts of prodromal labor, and Andrea was ready to come whenever I felt like I needed her. On the night my active labor began, she came as soon as I requested. Despite it being 1am Andrea was upbeat and ready, setting up her equipment and preparing for baby's arrival. Throughout the labor process Andrea remained a calm and steady presence. She knew from our prenatal discussions that I preferred to labor in my own "zone," and that was completely respected. She was always there quietly checking in and offering encouragement, while at the same time giving me the space I needed to be alone with my own process. Labor progressed quickly, and as my body was telling me to birth standing up, Andrea squeezed in between furniture on the floor so that I didn't have to move. After our daughter arrived, Andrea and her birth assistant stayed for over 2 hours making sure we were healthy and comfortable. They respected the initial bonding time, and waited patiently for my little one to finish her first nursing session (which took awhile!) before they checked her weight, etc.
Andrea is an amazing midwife, and I felt confident in her care from beginning to end. There were no problems, but I know without a doubt that if something had gone wrong Andrea would have handled it with competence, skill, and grace. The whole experience of this pregnancy and birth was empowering and we are so thrilled with the care Andrea gave to us. We would absolutely hire her for future babies!!"
Katie B.
"My story of working with Andrea is unique in the fact that I didn't know her very long before I gave birth to my daughter in my home.  In fact, I called Andrea inquiring about her services only 10 days before she arrived.  I had been going to a big hospital in Manhattan for all of my prenatal care when late in my pregnancy my husband and I discovered The Business Of Being Born, a documentary film that explores options for women expecting that are not typical hospital births.  The care that I was receiving at the hospital left me feeling neglected, irritated and downright violated.  After learning that there were alternative ways of bringing your baby into the world (ways that precede drugs and C-sections) I sought out a midwife that would take me on in the final days of my pregnancy to do a home birth.
Andrea made it clear everything we needed to do to prepare for our baby.  She was extremely thorough and detailed during her visits with me, including timely text, email and phone correspondence.  There was a level of comfort and trust I had with her immediately that surpassed anything I'd ever experienced with any healthcare professional.  Not to mention the love, kindness, and humility that is her being.  My husband and I were truly blessed to be connected with Andrea for one of the most significant moments of our lives.
The birth itself was a wonderful experience with Andrea and her assistant there for anything and everything.  My water broke around 5pm and contractions started soon after. We called on her to come over around 3am, as my contractions were very close together.  I was able to start pushing shortly after she arrived and with her skilled hands she was able to prepare me so that my 8lb 10oz baby could exit without causing me a single rip or tear.  Hallelujah!  During the pushing process I was guided by her positive and patient coaching while being comforted between contractions.  When my baby finally did come out she wasn't breathing.  Calm and confident Andrea was able to resuscitate her immediately.  I was not worried for I knew my baby was in the best care possible, in or out of a hospital.  It was an extraordinary journey through the night.
The next day had come and my husband and I were able to hold our baby girl.  She latched on to my breast and fed within the first hour of being born.  Andrea and her assistant stayed for a few hours to help with newborn care, cleaning me up, and even preparing my husband to care for me when they left. The amount of time and energy spent bringing new life into this world made me feel so incredibly loved. I have so much appreciation for Andrea and all that she did for us.  Dreams really do come true!  Should we have additional children in the future she will be the one we call on to celebrate life with us."
Camile G.
"Andrea is such a gift to have at your birth and in your life! It was an instant connection between her and my family, and I knew she was the right person to assist in bringing my child into the world!! I left every visit with her feeling more informed, assured and confident in my choices. At all times (before, during and after birth), she expressed and showed a belief and trust in me and my abilities even at times when I was unsure of it, which meant the world to me! Although my birth did not go entirely as planned, she was consistently available, present, supportive and informative. In addition to having a warm, compassionate and intuitive spirit, she is incredibly intelligent and clinically thorough! I always KNEW I was in good hands with her guiding the process! I would hope to have her at all of my births!! She is a wise woman, a beautiful spirit, and an incredible midwife!!"
Nina W.
"Andrea is fantastic and so supportive! I switched over from my dry OBGYN to Andrea when I was about 5 months pregnant. It's was such a difference to have that personal touch. I never felt alone and if I had any questions she was always an email, text or call away! That alone was a major difference considering I sometimes didn't get called back from the other OBGYN. It was also such a pleasure to be pregnant and have the prenatal visits at home as opposed to the medical waiting room. It really helped towards the end! When the time came, Andrea was right there! On the phone and then right there when the timing got closer. Her strength during the labor is what I needed as well as the nurturing to get me through it. Even when the plan changed venues to the hospital, Andrea was right there advocating for me and explaining what my options were. I truly appreciate the level of honesty with her. She helped bring Pax into the world! 8lbs 11oz! I'm looking forward to calling Andrea with my 2nd!!!"
Marci L.
"We were fortunate to have Andrea as our midwife for the birth of our son in 2010. Andrea is kind, warmhearted, and always the professional. Every prenatal visit with her was comfortable and I always left feeling supported, more prepared and educated. She is incredibly intelligent and skilled at her craft. During labor, and the birth of our son, she was positive and encouraging. Her calm disposition gave me the support and strength I needed to get through the pushing stage quickly. If possible, I would choose her to deliver my children every time."
Laura W.
"Andrea's patience and expertise created a very different experience than we would have had in a hospital setting. She really took the time to get familiar with our birth plan, and was fully committed to doing everything possible to honor it. We knew we were in excellent hands, so I could really focus on the hard work of having a baby! There were a few surprises during the process, and she was so wonderfully calm and reassuring! Our little one came into the world healthily and loudly. After the birth, it took quite a while to deliver the placenta. Instead of reaching for the Pitocin as they would have done in a hospital, she calmly watched and waited for my body to do its thing (I wasn't bleeding much). Patience paid off! I look back on the birth of my son with nothing by joy and peaceful memories, and Andrea was so much a part of that. I can enthusiastically and wholeheartedly recommend her as a midwife!"
Esther H.
"About three and a half years ago I was privileged to the most amazing birth. In contrast with my previous hospital birth, giving birth to A. was nothing short of a spiritual experience. Andrea, my midwife understood my past medical history and all the risks of me not having a hospital birth. I tend not to wait until 10 cm to push and I started to feel the need to push at 7 cm. Andrea motivated me psychologically to not push, and she gave me the physical tools I needed (method of breathing) to prevent me from pushing until my body was ready at 10cm.
Seeing as I never had a non-hospital birth before, I and some family members were nervous of the outcome. I fully trusted Andrea's medical judgment and I was emotionally in-tuned with her. A combination which is rare in the birthing business. I thankfully had a healthy delivery. I replay those hours over and over in my mind with joy and fulfillment. Aside from the amazing birth experience she facilitated, Andrea's pre-natal and follow up care is outstanding and thorough. Her non-judgmental, compassionate stance makes her a natural healer with her only wish to see mothers and babies through a healthy and happy birth journey. I am always grateful to have been lucky enough to have met her."
Michelle A.
"I feel extraordinarily lucky to have had Andrea as my midwife. She was patient, calm, encouraging, and made me feel like I was in the safest hands. We delivered Iris on June 6th, 2012 and she was 10 pounds 6 oz!  A big little lady! We did it the natural way. I hope that if my husband and I are lucky enough to have another child Andrea will be with us again!"
Tehila P.
"My 4th pregnancy was a very special and much anticipated one.  As a nurse, I wanted to birth this baby in an environment that would be respectful of the baby and myself as well as honor the birth process. I wanted to be able to bond with the baby immediately and not have her taken away to be poked and prodded. These feelings intensified when it was clear from the beginning that this pregnancy would need coddling every step of the way.  I woke up on March 19, the morning of the beginning of my 39th week with such bad leg cramps, I couldn't stand. Off I was sent to the hospital to rule out a DVT. While there, I went into labor and was afraid I would be stuck in the radiology floor of the hospital giving birth! I quickly called Andrea who drove up in her car and quickly discharged me and drove me to the birthing center to give birth (only after I promised not to give birth in her car, of course!). Once we arrived though, labor slowed down and it took me almost 24 more hours until my baby made her appearance. Andrea stayed by my side the entire time — encouraging me, talking me through it, helping me breathe, making sure my husband and myself were properly fed and hydrated. She answered all of our questions, addressed all our concerns, made us feel completely special and loved. She made several helpful recommendations about different positions and I labored in the tub for awhile. Most of the time though, I preferred walking the halls and Andrea walked with me, distracting me with funny stories and helping me focus to get through the stronger contractions.
About 1 am the next morning my baby was finally ready for us to meet her. She started coming quickly and Andrea quickly realized she had a cord around her neck- and her hand on her face! She remained completely calm and instructed me to stop pushing while she quickly got the cord free and then the baby was born! We hung out there for awhile — without cutting the cord right away. I was able to hold and even nurse her before we cut the cord. We were able to rest and bond as a family with the baby snuggled between us. Andrea coached me through the whole pregnancy, labor, and birth. I was able to enjoy the whole process and I learned to trust it and myself. I feel like I got everything I hoped for and I gained belief in myself as a parent by taking an active role in my birthing process and being listened to and cared for. This is especially important to me now that we have learned that my baby has a systemic disorder which affects all her body systems.  When things get tough, I picture my birth and how strong and capable it made me feel and I know that I can do anything. Thank you Andrea for all that you have given me."
Jennica P.
"Delivering with Andrea at the hospital was not ideal, because I had my heart set on another water birth. But I am grateful to have had her there with me at Maimonides. The nurses were trying to bully me into being stuck in the bed and tethered to the IV for no good reason. Heck, they tried to scare me out of going into the bathroom because I would have the baby in there! I am so glad that Andrea had informed me of my rights as a patient, so I was able to hold my ground until she got there. I am grateful that she let me decide which position I wanted to try pushing in and that she was willing to play things by ear so long as the baby was safe. I remember when Andrea actually did tell me that we had to turn around and try pushing differently because the baby's heartbeat kept dropping while I was pushing from my upright position. Thanks to Andrea, my baby was born safely, and he even got named after her! Andrew is now 4 years old and you wouldn't believe he is the same tiny baby she delivered that day!"