Birthing Assistants
Shalawn Facey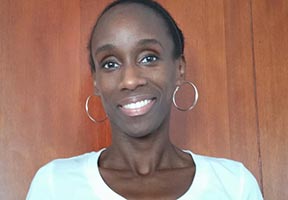 Shalawn Facey is a wife, a mother and a New York native. She has always believed in supporting new and transitioning mothers. After having her first child, she became totally committed to the need of finding support for herself and anyone else venturing into motherhood. As a breastfeeding mother she soon realized the importance of great support for breastfeeding moms. Shortly after becoming a mother herself, she began training and working as a postpartum doula.
Helping women navigate the waters of mothering a newborn became her passion. She later trained to become a Birth Assistant, assisting midwives in both Birth Center and home birth settings. In 2011, after seeing the continuing need for breastfeeding support, Shalawn became a Certified Lactation Counselor. She has an affinity for working with women and infants. With over ten years of experience, Shalawn has attended many, many births. She loves working as a Birth Assistant and being the right hand that supports the midwife. Shalawn currently lives in Brooklyn and is the proud mother of two beautiful children.
Maggie Torrance


Transplanted from the Midwest, Maggie has lived in Brooklyn for over eight years. She is a DONA trained Birth Doula, Certified Lactation Counselor and a Birth Assistant/Clinic Manager at the Brooklyn Birthing Center. She has had the honor of witnessing over 200 beautiful babies enter into the world. Maggie finds nothing more rewarding than sharing the experiences of pregnancy and childbirth with women and their families. When she is not admiring pregnant women or encapsulating placentas, you will most likely find her making her son laugh and serving her community.
Sasha Weigel


Sasha began her journey into the world of birth a decade ago when she became a certified birth doula with Doulas of North America (DONA). She pursued a Bachelor's of Nursing degree in 2010 and became a Registered Nurse (RN) in 2012. She worked as a Labor & Delivery and Postpartum nurse at NYU Langone Medical Center for almost 4 years. She is now the Manager of Baby Caravan and continues to work as a birth doula, a Certified Lactation Counselor (CLC), and is in the Midwifery Masters program at NYU with a projected graduation date of May 2018.
Sasha lives in Carroll Gardens, Brooklyn with her husband Asch, her son Wells and her dog Mimi.
Emily Cohen-Moreira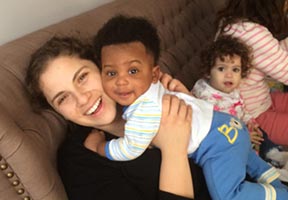 Emily is a Midwife Assistant, Birth Doula, Certified Childbirth Educator, and Certified Lactation Counselor. She is the founder of Lucy the Laborer Birth and Lactation Education and Services. Emily has been working in the pregnancy, birth, and breastfeeding world since 2009 and brings a feminist, caring, parent-empowering approach to birth work. She is also a mom to her daughter, born at a planned home water birth in her kitchen in July 2012.